2013 SPRING FORWARD BLOG HOP
[heading style="1″]WELCOME FRIENDS[/heading]
Here is the Link URL: Please copy and place in your sidebar after signing up for the hop! 
http://gliterarygirlmedia.com/wp-content/uploads/2013/03/ggbloghop300x400.png
TWITTER HASHTAG #GGBLOGHOP
[divider style="dotted" height="40px" ] [divider style="dotted" height="40px" ]
Well it's coming up on the warm season and what better way to celebrate the beginning of Spring than with a giveaway? And Gliterary Girl Media has just launched, so we asked…
why not introduce ourselves to the community by throwing a blog hop party?

However, we aren't just giving away books or Amazon gift cards. No. We have a bunch of cool prizes that incorporate what we do and what our media group represents. As many of you know Gliterary Girl is a female focused website that caters to the publishing industry and Gliterary Girl Media is a PR firm/Edit House. So our prizes for this hop will represent a little of both.
(INTERNATIONAL ENTRY)
[dropcap type="square" round="yes" color="#f5f5f5″ background_color="#4583b3″ ]1[/dropcap]One grand prize winner will receive a $100 Gift Certificate to use towards any of the services here on Gliterary Girl Media. That includes book tours, editing, coaching, cover design tour badges…anything!
[dropcap type="square" round="yes" color="#f5f5f5″ background_color="#4583b3″ ]2[/dropcap]Two winners will receive $50 gift cards to Gliterary Girl Media
(US ONLY)
[dropcap type="square" round="yes" color="#f5f5f5″ background_color="#4583b3″ ]3[/dropcap]Since this is Gliterary GIRL what kind of giveaway would it be without a girlie prize that will help get you ready for the beach season. So, One winner will receive an awesome gift basket (We actually won't be putting it in a basket – too hard to ship) full of Mary Kay products to get your body and face ready for Spring; provided courtesy of Sara O'Connor. Retail value over $100! (Click on her name for her web link) 
Satin Hands Fragrance Free Set ($34)
Creme Lipstick in Toffee ($18)
TimeWise Skin Repair One month Supply ($44)
Lash Length Mascara in Black ($10)
[divider style="dotted" height="40px" ]
How Does A Blog Hop Work?
It is a great way to meet bloggers, spread the word about books and get visitors to your site!
The post you set up on your page will be linked to all the other blogs and your readers just have to click the linky to hop to all the other participating blogs. It is a lot of fun and great exposure. Think of it as a virtual mall, where our visitors become your visitors. It is all about networking.
Your post must include a giveaway…we don't care what it is, but it must represent your brand. So if you are a blog site that focuses on romance novels, then put up a dinner for two, or a gift card for amazon. Use your imagination and most of all….MAKE IT FUN![divider style="dotted" height="40px" ]
WHAT'S REQUIRED?
You must put the badge displayed prominently (URL ABOVE) on your blog with a link back to this page.
You must display the linky found below in your post when it goes live.
You must offer some prize giveaway (This works to your benefit) but it doesn't have to be expensive (Starbucks $5 GC is good enough).
Your post must go live within 12 hours of the start day and remain up for the full 6 days.
The post must include the above badge.
You MUST have fun.
You must link your site to the blog hop page here. You can do that by inserting the above image URL to your sidebar with a link back, OR you can copy the HTML code below and paste it in you sidebar.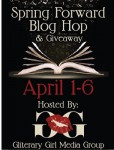 Here is where you sign up:

If you have issues with the linky let me know. I have had trouble in the past – it can be pretty touchy.
Here is the code to include this linky onto your page. Once you go there, copy the correct link for your type of site and display it for your readers in the actual post. This is required.